Year in Review - 2021
.
As 2021 draws to a close, we reflect on another year full of growth, challenges, highs and lows and sometimes spinning in circles – with Covid dominating the general discourse across work, home and personal lives. I'm writing this while in a compulsory 7-day Managed Isolation Quarantine (MIQ) hotel in Auckland, New Zealand, which feels kind of symbolic of the year that has been – full of potential and opportunity but constrained by the reality of the global pandemic which continues to evolve. With the new Omicron strain, we're still not out of the uncertainty, but one thing for sure is that I am looking forward to being with family and friends in NZ, recharging and reconnecting and taking the opportunity to step away from the grindstone and refilling the fuel tank as we look forward to 2022.
A few of our highlights from 2021:
we celebrated our 5 year anniversary of KorumLegal in March 2021 – where I reflected on the successes, failures and learnings of growing a business from small beginnings to one of the leading NewLaw and Alternative Legal Services Providers (ALSP) across the Asia-Pacific region with a solid EMEA office.
we won at The Asia Legal Awards - 'Alternative Legal Service Provider of the Year, 2021' amongst some industry heavyweights - which was a massive accolade and recognition for our amazing team, customers and consultants.
we worked on our next 5-year strategic plan and identified our key strategic pillars across the next 3 horizons – which focusses on growth into new markets; further investment in our technology platform Axceller; our consultant attraction and retention strategy; building out our Managed Legal Services (MLS) product and seeking opportunities for growth, partnerships and investment.
as a team, we revisted and refined our Purpose, Vision, Mission and Values statements to reflect who we are today and tomorrow (and not 5 years ago!)
we recently achieved an Net Promoter Score (NPS) score of 67% which we are proud of (given legal industry average was 26% and 42% in 2020 and 2021 respectively). We've constantly strived to listen to customer feedback and have pivoted to further develop our 3 core products as follows:

People

– expanded our popular People product offering to law firms to support their growth and client demand;

Process & Tech

– further refined our core offerings of Health Check & Optimisation (audit); Transformation (Korum Process Methodology) and Thought Partner (strategic guidance);

Managed Legal Services

– we enhanced our MLS solutions as a response to customer demand and feedback now offering our MLS Starter, MLS Lite and MLS+ solutions to give customers more choice and flexibility.
our technology platform Axceller has continued to serve as a back-bone of our business with further development on the roadmap for 2022 and beyond. We're investing more resources to develop the core capabilities of Axceller, build out the customer proposition and knowledge capital infrastructure.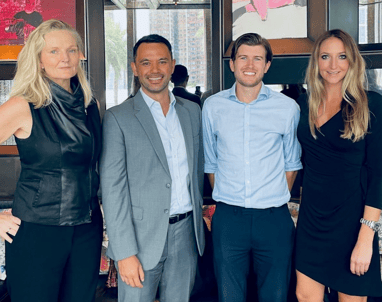 our HQ team has seen natural evolution and movement. We've welcomed some strong and experienced new team members this year – as we move to a more expert HQ base while still maintaining our lean structure. At the same time, we've bid farewell to a few fantastic team members who have moved on to new opportunities. I'm forever grateful for everyone who joins the KorumLegal HQ ranks and contributes to our story.

A special mention of Danh Nguyen, our GM for EMEA who leaves us in January to take up a global General Counsel role for a fast-growing payments company in the UK. Over the nearly 4 years Danh has been with us, he has been a stalwart and strength for KorumLegal and a huge support to me personally. We will miss you Danh, but wish you all the best in your new role!

Rob Shakespeare

, will extend his responsibilities taking over leadership for EMEA and become

General Manager, SEA & EMEA

from 1 January. Congratulations Rob!
So it has been a year of success, change, refinement, maturity and clarity of purpose, vision and strategy as we head into 2022 with more confidence and in good stride. I'm looking forward to leaving NZ quarantine and reconnecting with family and friends and hopefully enjoying a much-needed summer holiday of beach, relaxation and lots of good food and drinks!
We wish our KorumLegal community of customers, consultants, partners and supporters a very happy, healthy and restful festive season with family, friends and loved ones. Here's to a bigger, brighter and healthier 2022!
Titus Rahiri
Dec 20, 2021
By: Titus Rahiri
We are coming to the close of 2017 - and I am happy to say that it has been a great year overall. It has been full of many highs, few lows, challenges, opportunities and lots of hustle – but we are..
Read Article
By: Titus Rahiri
As 2019 draws to an end, it's a chance to reflect on the year that was and take stock. It was an important year of solidifying, scalability and solutions development for KorumLegal. As our HQ motto..
Read Article