I'm a Legal Geek… and Pretty Proud of It!
.
Last Tuesday, I trekked half way across the globe to go to the 2018 Legal Geek Conference in London! Off the plane at 5am, I managed the many delays of the London tube, to make my way to Shoreditch where I loaded myself with coffee before the 10am start. It was going to be a big day!
It was a pretty whirlwind day, but all-in-all it solidified my status as a Legal Geek. The conference is very much an exposition of what is happening in the LegalTech and legal innovation space. With two stages, it packed a lot in with most speakers having a maximum 10 minutes time slot to say their piece.
But it's not just the cool legal tech companies in the room that create the buzz, it's also the 2000 other legal geeks, all just as interested in making law better. All of this is with the purpose of advancing legal innovation. It gets you pumped! So here are my key three takeaways from Legal Geek 2018!
Takeaway #1 - The standout tech platforms of last year are still the top players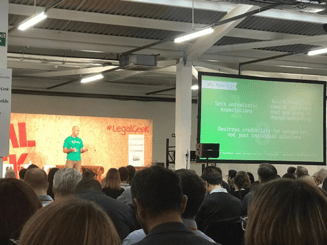 This doesn't mean things aren't "innovating", it means that the products/services which have been making noise for the last year or so, are still the main players. This is great because it means that they are moving beyond just being a hyped-up start-up to something that is a real game changer and that they're here to stay for the long-haul. Notably, we saw our friends at Avvoka, Neota Logic, Kira Systems, Thoughtriver, Luminance and Juro.
This also allows for us to identify who's all hot air and who's the real deal. There were some really great presentations about how to break through the hype of legal tech.
A new player that did get my attention was Tessian – a data loss prevention platform, that uses AI to reduce risk around email use. Ever had that sick feeling the moment after you've discovered that you've sent an email to the wrong person. With Tessian, this will be a thing of the past. Well worth checking out!
Takeaway #2 - Legal education is finally starting to catch up – LegalTech is real!
It was really great to hear from a number of universities about their law and tech programs. The University of Law stood out from the crowd. It had started to incorporate AI and LegalTech into its courses, and now offers new innovation and tech modules in its courses, an LLM in Legal Technology and also law and business courses to highlight commercial awareness, working with tech and project management. The University of Leicester, Manchester University and London South Bank University were also other universities which are embracing the legal tech world.
Takeaway #3 - Legal Design is redefining law
The day gave us a teaser into Legal Design... I say a teaser as there was another full day conference the following day devoted to Legal Design Geek. Essentially, if you want to truly transform and innovate in law, you need to be incorporating legal design. Humanise your law... give it empathy. All sounds very strange and airy fairy but...
FunFact #1- it takes 76 days on average for a person to read all the terms and conditions we have accepted in our lives! Let's be honest, no-one, not even us Legal Geeks have spent this time reading T&Cs (although drafting them - that's a whole different story....)
A fun fact perhaps, but also seems like a total time waster for those writing the T&Cs, those paying for the T&Cs to be written and the poor lay person reading the T&Cs… to whom they apply! Legal Design is about making law more accessible, relevant and real.
Dot.Legal, Juro and DWF Ventures were the ones to watch here. Worth checking out if you want to know more. Also see Danh's recap on the Legal Design Geek conference here!
FunFact #2... 70% of SMEs in London don't use lawyers because it's too expensive!!
Quoted by Richard Tromans (founder of Artificial Lawyer) this was a crazy statistic to me... particularly because they could just google search KorumLegal and their problems would be solved! 😀 (if this is you or someone you know... please do yourself a favour and start googling!)
How can Legal Geek get better for next year?
Give a bit more meat to the sessions – or at least some of the key sessions. It was great hearing what everyone was doing and the short speeches kept it fast paced and exciting, except there were a few times where I wanted to know more and wanted a deeper dive, but only got a teaser.
All-in-all, a great conference and I'm glad I made the trek all the way from Hong Kong. Already looking forward to next year's!
High Fives! Well done Jimmy Vestbirk and team. Love your work!
Annalise Haigh
Oct 25, 2018
By: Annalise Haigh
The inaugural Australia CLOC Institute, held in August in Sydney, was an epic kick off to the Australian CLOC journey. The one-and-a-half-day conference covered all things Legal Operations related,..
Read Article